Class III to Class IV $450 Adult & $350 Youth
Book Now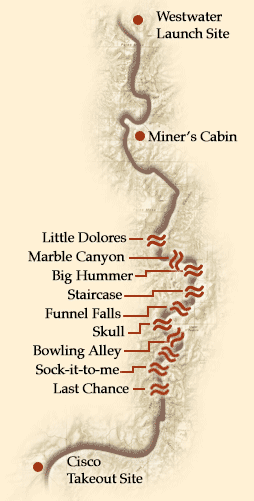 Join us on a two day river trip down the mighty Colorado River through Westwater Canyon, a proposed "Wild & Scenic River". Experience great whitewater rapids in a steep narrow gorge. You'll run Funnel Falls, Sock-It-To-Me and the formidable Skull Rapid. At night you'll relax over a gourmet dinner with the rivers soothing sounds.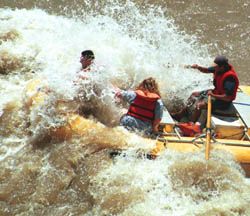 A classic canyon of the American southwest, Westwater Canyon protects our wild west heritage with old mining cabins, petroglyphs, and an outlaw grave. Old growth Cottonwood trees provide roosts for Bald Eagles. River Otters are often spotted playing in eddies, and beaver can be heard slapping their tails after dark.

We'll stop for lunch on the river's edge where your guide will serve a tasty buffet style picnic. After eating we prepare for the big whitewater with an in-depth safety talk. One of the great characteristics of Westwater Canyon is that the rapids are good at almost any water level. So, no matter what time of year you'll encounter exciting whitewater that demonstrates the power and magic of the Colorado River.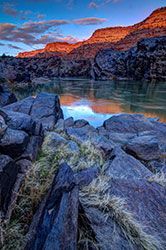 As evening invades the canyon we set camp along the river. A western style meal is prepared by boatmen over the embers of an open fire. Later, fresh baked dessert in a dutch oven will be the touch to end a perfect day. We have some of the darkest skies in the country and on a clear summer night the Milky Way is a prominent and beautiful sight.

Morning brings a hot cup of coffee and a hearty breakfast. We load the boats and continue along the Colorado River for another great day. Some river runners try inflatable kayaking thru the flat water after rapids and others relax on the oar boat and take in the scenery that has made this area world famous. Contact our office to arrange this remarkable two day trip.
---
Call us toll free 1-800-833-1278
Book Now
Trip Details:
Your two-day Westwater expedition departs 8:00 AM from NAVTEC Expeditions. Our office is located at 321 N. Main Street in Moab, UT. Please arrive 15 minutes early to check in. After two days on the river we return to our office at about 5:00 PM. Trip departure dates are listed below. Contact us for charter trips or special dates. All ground transportation is included. Reservations are required, certain trip minimums apply.
2024 Dates:

March 9, 13, 16, 20, 23, 27, 28, 29, 30, 31
April 3, 6, 10, 13, 17, 20, 24, 27
May 1, 2, 3, 6, 7, 8, 9, 12, 13, 15, 16, 20, 22, 26, 27, 29, 30
June 2, 6, 10, 12, 13, 20, 30
July 1, 4, 11, 18, 29
August 5, 7, 12, 14, 22, 28
September 2, 4, 9, 11, 12, 13, 16, 18, 20, 23, 24, 25, 26, 27, 29, 30
October 2, 5, 9, 12, 16, 19, 23, 26, 30

Times:

8:00 AM -- departure from NAVTEC office
10:00 AM -- put-in for Westwater Canyon
5:00 PM -- approximate return to Moab on day 2

Cost:
$450 Adult & $350 Youth (Govt use fee not included)
Included:

Oar boat and paddle raft options depending on availability
Inflatable kayak on day two (must specify during reservation)
All meals and snacks while on the river
Ice water refills, Lemonade, and breakfast drinks
Coast Guard approved life jackets, river bags and camera box
Transportation from our office to the river put-in and return
Pick-up from your motel or campground, if needed
Licensed experienced guide service

Not Included:

Gratuity to guide
Two man tents $20 rental + tax
Sleeping bag, pad, and ground cloth $13 rental + tax
Soft drinks (bring your own -- we provide a cooler and ice)
Signature on required "Acknowledgement of Risk" form
Wetsuit (required on certain trips)

What to bring:

Reusable water bottle (we have the refills)
Sturdy footwear, Please No flip flops
Light colored quick dry clothing (not cotton)
Rainsuit (both pant and jacket)
Change of clothes
Spring and Fall base layers: long johns, sweater, polartec, wool
Spring and Fall: warm hat, gloves, jacket and dry shoes
Swim suit or fast drying shorts
Long sleeve shirt if you're sensitive to the sun
Sun screen and lip balm
Hat with a visor (a must for sun protection)
Sunglasses with securing strap
Cell Phones and Camera, carried at own risk
Flashlight (extra batteries)
Small day pack
Toiletries, personal medicines, skin lotion, insect repellent
Camp clothes: t-shirt long pants socks, fleece jacket

Reserve Today!

Book Now


RESERVATIONS & CANCELLATIONS: Call us at 1-800-833-1278

To set up a reservation you can book online, give us a call, or email us at

This email address is being protected from spambots. You need JavaScript enabled to view it.

. Payment in full is due when making reservations online.
If you prefer to put down a deposit to hold the trip give us a call. A minimum $100 per person deposit confirms your spot. The balance will be due no less than 30 days prior to departure.
Cancellations made 31 or more days prior to departure receive a full refund less a $50 per person cancellation fee. Sorry no refunds within 30 days of departure WITHOUT EXCEPTION.
If you are concerned about the possibility of having to cancel, we strongly suggest you purchase trip cancellation insurance to protect your vacation investment.
NAVTEC Expeditions assumes no financial responsibility for personal injury, emergency evacuation, or equipment lost in any way.