The dynamics of erosion weave the sandstone of Arches National Park into fins, pinnacles and arches -- a tapestry of rare intrigue that, even in this day of spiraling visitation, continues to captivate and inspire. The Park is a place of dreams, of visions, of contemplation. In the shadows, remnants of cowboy camps and old corrals appear along an old rustler trail that once slipped through the heart of the park. They are a reflection of a time in history where one man's dream began: Dr. J.W. Williams.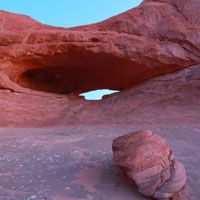 Discover iconic landforms of contrasting colors and textures unlike any other in the world. This red rock wonderland will amaze you with its formations, refresh you with its trails, and inspire you with its dynamics of erosion.
Adult:$174 Youth:$164 Arches 4x4/Hiking Tour -halfday 8am, 1pm, 4pm
DECEMBER-FEBRUARY departures 9am, 12pm
Book Now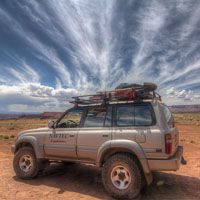 The Arches & Canyonlands package combines two National Park 4X4 tours into one day. This combo includes the Shafer Trail, Tower Arch, and a delicious picnic lunch.
Rates: Adult:$298 | Youth:$288
Area: Arches & Canyonlands 4x4/Hiking Tour
Length: 1 day
Book Now