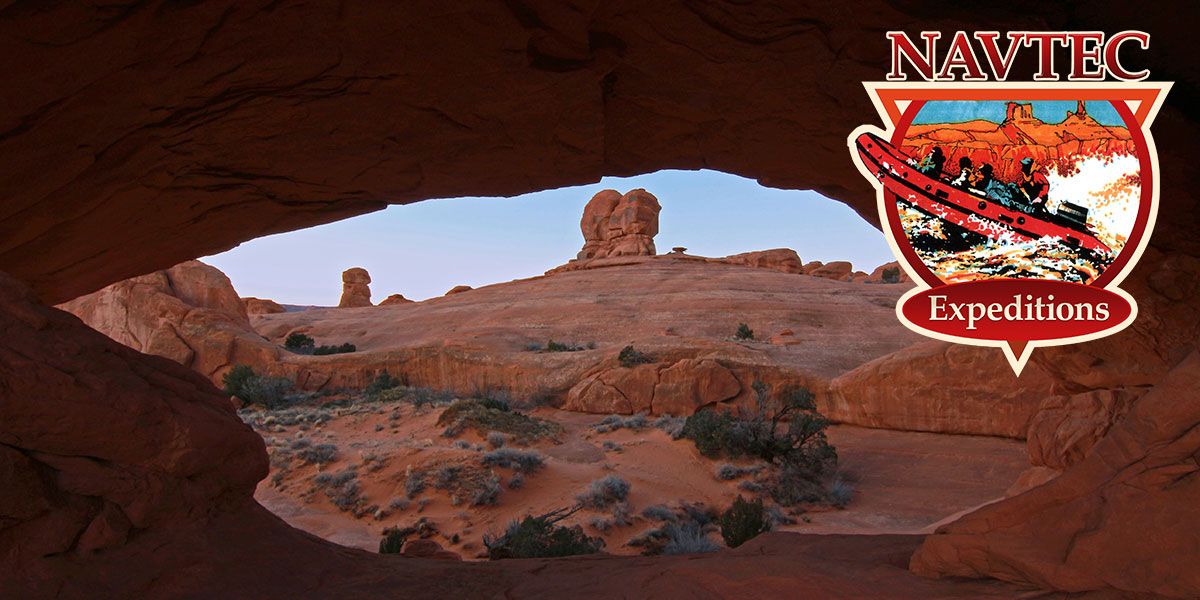 Arches 4X4 Tour $174 Adult & $164 Youth
Book Now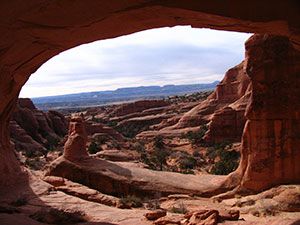 Visit Arches National Park and discover iconic landforms of contrasting colors and textures unlike any other in the world. This red rock wonderland will amaze you with its formations, refresh you with its trails, and inspire you with its dynamics of erosion. Even in this day of spiraling visitation our tour leads you into the solitude of Arches that few get to experience.
Our 4x4 trail begins near Doc Williams Point, a NAVTEC family pedigree. The trail climbs a steep, but short rock wall, cuts across a valley and meanders through sandstone fins and dunes. En-route we pass the Marching Men, Tower Arch, and the Eye of the Whale. We exit via an old cowboy trail and see Dinosaur tracks on our way back to Moab.
Roughly 65 million years ago, Arches was a dry seabed and massive desert full of shifting sand dunes. The rock layers visible in the park today were once buried by over a mile of other rock that had to erode first to expose what we see today.

Beneath the surface a thick layer of salts, squeezed by tons of rock above it, flowed and bulged upward, creating long domes. The sandstone layers covering these domes were forced to crack. Water seeped into these fractures breaking off chunks of sandstone. This process turned fractured rock layers into fins or a series of parallel lines. Rainwater soaked into the porous sandstone slowly dissolving the calcite bonding the sand.
This trapped water expanded and contracted during freeze thaw cycles eroding the fins into arches. The fact that so many arches still stand, tells us this area has been rather geologically stable for at least 50,000 years.
---
Call us toll free 1-800-833-1278
Book Now
Trip Details:
Half-day Arches 4X4 tours depart at 8:00 AM, 1:00 PM, or 4:00 PM (DECEMBER-FEBRUARY departures 9am, 12pm). Meet us at the NAVTEC Expedition office 15 minutes prior to departure. We are located at 321 N. Main St. Moab, Utah. Pick-up from local hotels, motels, and campgrounds is also available upon advance request. We will take you to Arches National Park in our comfortable 4X4 vehicles and return you when the trip ends. Reservations are recommended, certain trip minimums apply.
Trips Operate:
Times:

8:00 AM to 12:30 PM -- Morning tour
1:00 PM to 5:30 PM -- Afternoon tour
4:00 PM to 8:30 PM -- Sunset tour
DECEMBER-FEBRUARY departures 9am, 12pm

Cost:
$174 Adult & $164 Youth (16 and under) + tax
Included:

National Park Tour by Four Wheel Drive Vehicle
Pick-up from your motel or campground, if needed
Ice water (refills) and lemonade
Licensed experienced guide service

Not Included:

Gratuities to guides
Signature on required "Acknowledgement of Risk" form

What to bring:

Sunglasses, sunscreen, visor or hat (sun protection)
Water bottle, we have the refills
Cell Phones and cameras carried at own risk

Reserve Today!

Book Now


RESERVATIONS & CANCELLATIONS:
Call us at 1-800-833-1278

To set up a reservation you can book online, or give us a call at 435-259-7893

Cancellations made 24 hours or more prior to departure receive a full refund less a $10 per person cancellation fee.

Sorry no refunds within 24 hours of departure WITHOUT EXCEPTION

NAVTEC Expeditions assumes no financial responsibility for personal injury, emergency evacuation, or equipment lost in any way.

A three passenger minimum is required for this tour to operate. If the minimum is not met you will be offered a different departure, the option to pay the third fare, or given a full refund.

We reserve the right to cancel or modify any trip. In such cases, we cannot be responsible for paying any expenses you may have incurred other than to refund monies due to you for tour price.