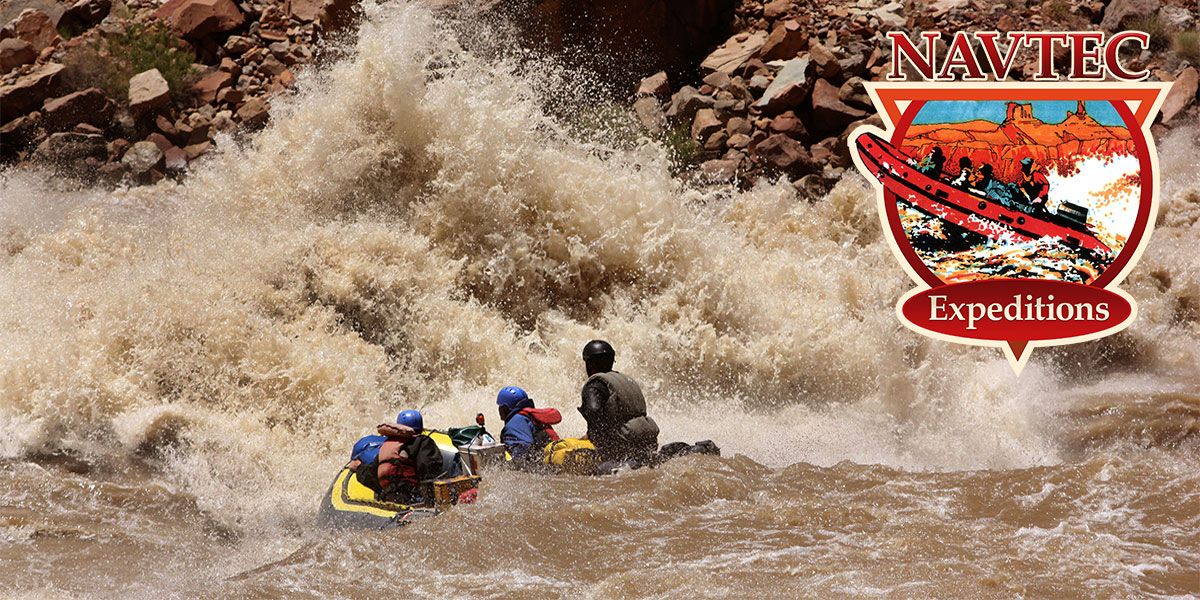 Class IV to Class V $625 Adult & $595 Youth
Book Now

Undoubtedly the finest one day expedition anywhere. Run the mighty Colorado River down Cataract Canyon on the NAVTEC exclusive whitewater RHIB. (rigid hull inflatable boat)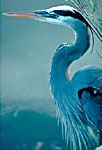 This famous 100 mile section of the Colorado travels into the heart of Canyonlands and through 30 world class rapids.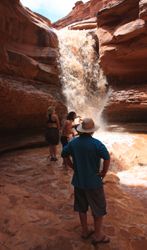 Watch for wildlife as you take in the canyon vistas along the upper lazy river miles. Rafting the Colorado on a RHIB means there is time for swimming, hiking or relaxing in the shade. Canyonlands National Park is an outstanding wilderness setting where photographic opportunities abound. Enjoy a buffet-style picnic lunch on the banks of the river. Downstream we pass the Confluence of the Green River and Colorado, and enter the much anticipated whitewater.
Our Whitewater RHIB (rigid hull inflatable boat) gives you a fun and stable ride. These small and competent craft navigate the thrilling whitewater of the North Seas, Hell-to-Pay, and the Big Drop rapids.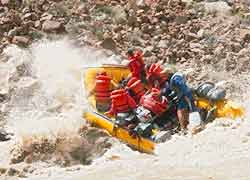 Cataract Canyon is one of the most exciting one-day river trips in the United States. During the months of May and June, snow melt from the Rocky Mountains makes for a day of super-charged whitewater action. Water levels become more moderate during summer and fall months, but the whitewater is still impressive. The maneuverability of the RHIB guarantees you will have an incredible experience no matter what the flow.
After hitting the rapids, a thirty mile run across Lake Powell brings us to the end of our trip. We leave the water at Hite Marina. You then have three options; return to Moab by ground transportation, by scenic flight, or have your personal vehicle shuttled to Hite for your arrival. Prices and timetables for the return options are listed below.
---
Call us toll free 1-800-833-1278
Book Now
Trip Details:
Your one day Cat trip departs NAVTEC Expeditions at 7:00 am. Please arrive 15 min early to check in. We'll shuttle by van to the put-in at Potash and hit the Colorado River by 8:00am. After a full day on the water we arrive at Hite Marina at about 6:00 pm. One day Cataract Canyon trips operate March through October. Contact us for charter trips or special dates. Reservations are required, certain trip minimums apply.
2024 Dates: Wednesday & Saturday Departures

March 16, 20, 23, 27, 30
April

3, 6, 10, 13, 17, 20, 24, 27

May

1, 4, 8, 11, 15, 18, 22, 25, 29

June

1, 5, 8, 12, 15, 19, 22, 26, 29

July

3, 6, 10, 13, 17, 20, 24, 27, 31

August 3, 7, 10, 14, 17, 21, 24, 28, 31
September

4, 7, 11, 14, 18, 21, 25, 28

October

2, 5, 9, 12, 16, 19, 23, 26, 30

Times:

7:00 AM -- departure from NAVTEC office
8:00 AM -- launch at Potash boat ramp
6:00 PM -- take out at Hite Marina
7:00 PM -- arrive in Moab by charter flight
9:30 PM -- arrive in Moab by ground tranportation

Cost:
$625 Adult / $595 Youth (16 and younger) Govt fees not included
Hite return options:

Scenic flight from Hite to Moab $219/person +tax
Ground transportation from Hite to Moab $35/person +tax
Have your vehicle shuttled to Hite $250/vehicle +tax

Included:

Licensed experienced guide service
State of the art Whitewater RHIB
Quality lunch with ice water and lemonade
Coast Guard approved PFDs, river bags, and camera box
Ground transportation from our office to the river put-in
Pick up from you your motel or campground if needed
Parking available at the NAVTEC office
Wetsuit when conditions require

Not Included:

Gratuity to guide
Soft drinks (bring your own -- we provide a cooler and ice)
Signature on required "Acknowledgement of Risk" form

What to bring:

Reusable Water bottle (we have the refills)
Sturdy footwear, Please No flip flops
Light colored quick dry clothing (not cotton)
Rainsuit (both pant and jacket)
Change of clothes
Spring and Fall base layers: long johns, sweater, polartec, wool
Spring and Fall: extra warm cloths (just in case)
Swim suit or fast drying shorts
Long sleeve shirt if you're sensitive to the sun
Sun screen and lip balm
Hat with a visor (a must for sun protection)
Sunglasses with securing strap
Small day pack
Cells Phones and Camera, carried at own risk

Reserve Today!

Book Now


RESERVATIONS & CANCELLATIONS: Call us at 1-800-833-1278

To set up a reservation you can book online, give us a call, or email us at

This email address is being protected from spambots. You need JavaScript enabled to view it.

. Payment in full is due when making reservations online.
If you prefer to put down a deposit to hold the trip give us a call. A minimum $100 per person deposit confirms your spot with the balance will be due no less than 30 days prior to departure.
Cancellations made 31 or more days prior to departure receive a full refund less a $50 per person cancellation fee. Sorry no refunds within 30 days of departure WITHOUT EXCEPTION.
If you are concerned about the possibility of having to cancel, we strongly suggest you purchase trip cancellation insurance to protect your vacation investment.
NAVTEC Expeditions assumes no financial responsibility for personal injury, emergency evacuation, or equipment lost in any way.