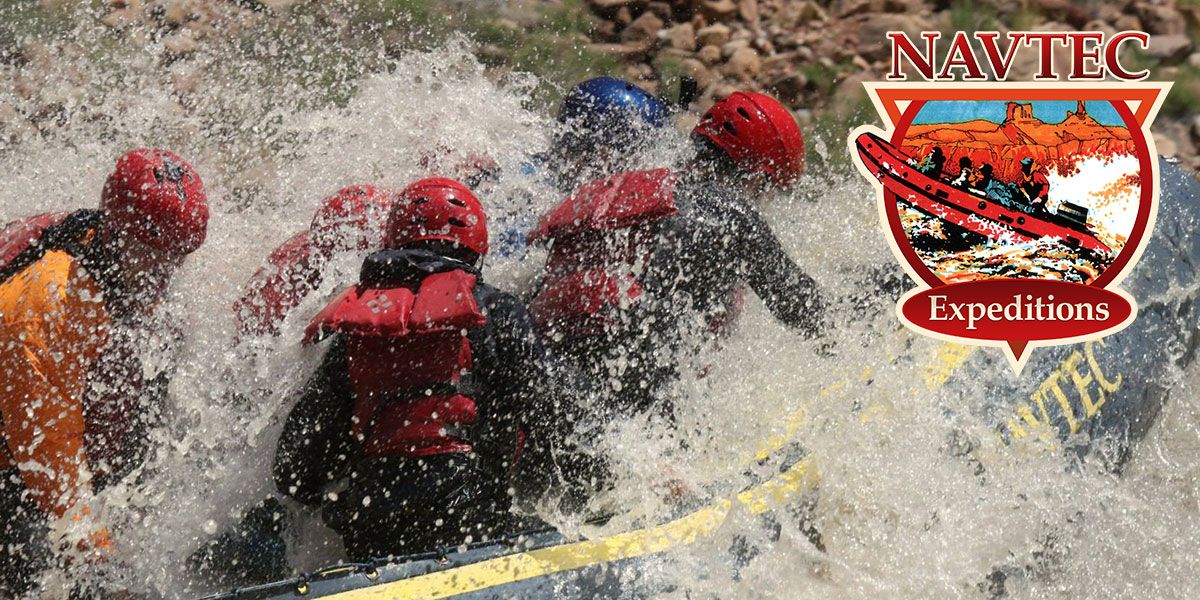 Spring highwater only $135 Adult & $125 Youth

NAVTEC Expeditions is the only outfitter that runs the rapids of the Colorado River both upstream and downstream. The whitewater RHIB navigates the river with precision and style on this half-day tour running each rapid at least twice. Travel 45 miles through a red rock wilderness in a boat that screams fun. Departures in spring high water only (April into July, but varies from year to year).

We have the river to ourselves cruising along the boundary of Arches National Park. The anticipation builds as we approach our first rapid. Moving upstream in a RHIB is truly unique. The water pearls under the boat as we smoothly move up the rapids past rocks and waves. We stop for a break at the top of the whitewater across from the Fisher Towers.
Be prepared to be blasted by whitewater as we return back down the canyon. When we run a particularly fun rapid, look out, we might do it again. Once the fun-meters have been reached we begin our return to Moab. This is the best half-day Moab rafting tour available. Many of our half-day RHIB clients find the time to join us the following day in Cataract Canyon.
---
Call us toll free 1-800-833-1278
Trip Details:
Your half-day RHIB trip departs at 8:00 AM, or 2:00 PM. Meet us at the NAVTEC Expedition office 15 minutes prior to your departure. We are located at 321 N. Main St. Moab, Utah. Pick-up from local hotels, motels, and campgrounds is also available upon advance request. We will take you to the river "put-in" for your trip and return you when the trip ends. Trips operate during Spring highwater only. Reservations are required, certain trip minimums apply.
Trips Operate:
Times:

8:00 AM to 1:00 PM -- Morning departure
2:00 PM to 7:00 PM -- Afternoon departure

Cost:
$135 Adult & $125 Youth (16 and under) Govt fees not included
Included:

Whitewater RHIB
Ice water refills & lemonade
Coast Guard approved life jackets, river bags and camera box
Ground transportation from our office to the river put-in and return
Pick-up from your motel or campground, if needed
Licensed experienced guide service

Not Included:

Soft drinks (bring your own -- we provide a cooler and ice)
Rainsuits (it's going to get wet)
Sturdy footwear, please no flip flops
Reusable water bottle (we have the refills)
Cell Phones and Camera (carried at own risk)
Gratuities to guides
Signature on required "Acknowledgement of Risk" form

What to bring:

Reusable water bottle (we have the refills)
Sturdy footwear, Please No flip flops
Light colored quick dry clothing (not cotton)
Rainsuit (it's going to get wet)
Change of clothes
Swim suit or fast drying shorts
Sun screen and lip balm
Hat with a visor (a must for sun protection)
Sunglasses with securing strap
Camera, carried at own risk

Reserve Today!

RESERVATIONS & CANCELLATIONS: Call us at 1-800-833-1278

To set up a reservation give us a call at 435-259-7983

Cancellations made 24 hours or more prior to departure receive a full refund less a $10 per person cancellation fee.

Sorry no refunds within 24 hours of departure WITHOUT EXCEPTION

NAVTEC Expeditions assumes no financial responsibility for personal injury, emergency evacuation, or equipment lost in any way.

A three passenger minimum is required for this tour to operate. If the minimum is not met you will be offered a different departure, the option to pay the third fare, or given a full refund.

We reserve the right to cancel or modify any trip. In such cases, we cannot be responsible for paying any expenses you may have incurred other than to refund monies due to you for tour price.