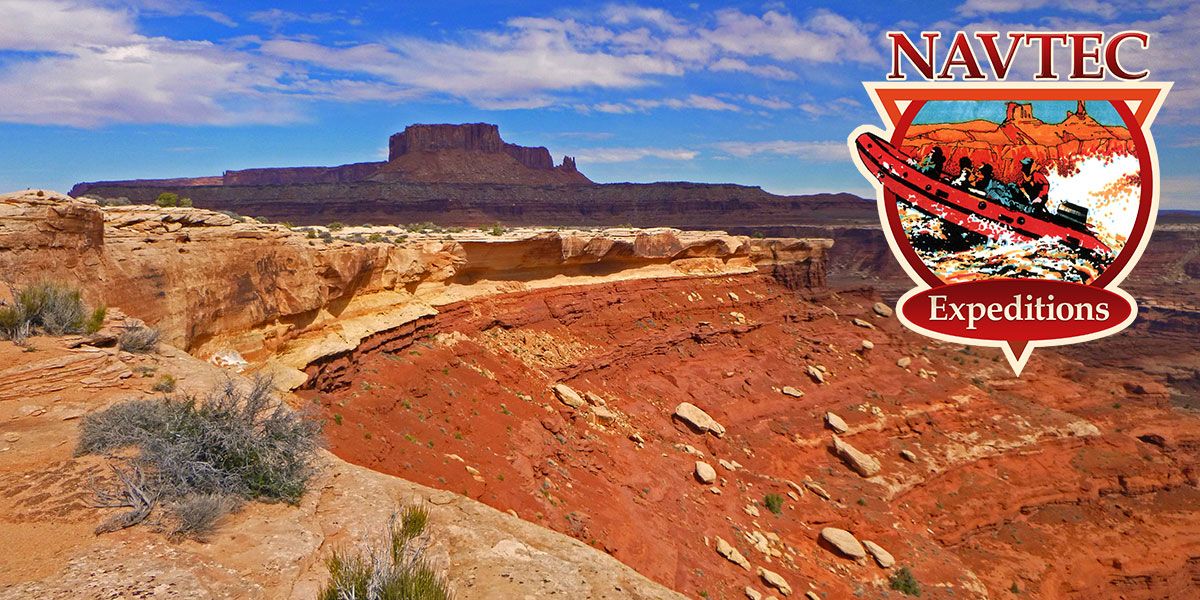 White Rim 4X4/Hiking $208 Adult & $198 Youth
Book Now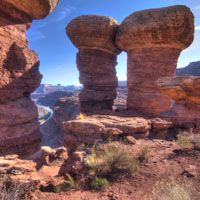 Let our guides show you the Canyonlands National Park that many miss. On this trip we'll travel the famous White Rim 4X4 Trail into the depths of the park. We leave the comfortable 4x4 behind for a number of excellent hikes into the caves and caverns that lie just beneath the White Rim Sandstone level. Hikes are moderate in difficulty, short in duration and optional. These wonderful hikes reveal hidden passages, secret canyons and a sense of discovery and magic.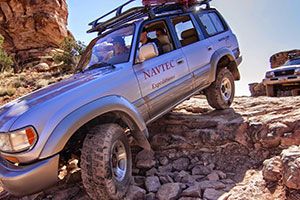 The White Rim sandstone is a relatively hard sandstone layer creating a beautiful and expansive rock terrace that covers the park from the Colorado River to the Green River. It is one of Canyonlands National Parks most dominate features contributing to its grand vistas and magnificent beauty. On one side the Colorado River is beneath you. On the other are the cliffs of Dead Horse Point. It'is a sight you'll remember for years to come. Along the way we'll stop for a picnic lunch which is included in the cost of your tour.
We'll visit park treasures such as the Goose Neck, Lathrop Canyon, Musselman Arch and the infamous Shafer Trail. Hikes beneath the White Rim layer afford views of the mighty Colorado River and its corridor that are unforgettable. This is what Canyonlands is all about.
---
Call us toll free 1-800-833-1278
Book Now
Trip Details:
Your full-day Island White Rim tour departs at 8:00 AM. Meet us at the NAVTEC Expedition office 15 minutes prior to departure. We are located at 321 N. Main St. Moab, Utah. We have plenty of parking for your convenience. Pick-up from local hotels, motels, and campgrounds is also available upon advance request. We will take you to the Island in the Sky in our comfortable 4X4 vehicles and return you when the trip ends. Reservations are recommended certain trip minimums apply.
Trips Operate:
Times:

8:00 AM -- Leave Navtec office (arrive 15 early)
5:00 PM -- Arrive back in Moab

Cost:
$208 Adult & $198 Youth (16 and under) + tax
Included:

National Park Tour by Four Wheel Drive Vehicle
Pick-up from your motel or campground, if needed
Parking available at the NAVTEC office
Ice water and lemonade
Quality buffet style lunch
Licensed experienced guide service

Not Included:

Park Entrance Fees
Gratuities to guides
Signature on required "Acknowledgement of Risk" form

What to bring:

Sunglasses, sunscreen, visor or hat (sun protection)
Water bottle, we have the refills
Sturdy foot wear
Day Pack (handy if you have one)
Cell Phones and cameras carried at own risk

Reserve Today!

Book Now


Call us at 1-800-833-1278

To set up a reservation you can book online, give us a call, or email us at

This email address is being protected from spambots. You need JavaScript enabled to view it.

. Payment in full is due when making reservations online.
If you prefer to put down a deposit to hold the trip give us a call. A minimum $15 per person deposit confirms your spot with the balance will be due no less than 48 hours prior to departure.
Cancellations made 24 hours or more prior to departure receive a full refund less a $10 per person cancellation fee. Sorry no refunds within 24 hours of departure WITHOUT EXCEPTION.
If you are concerned about the possibility of having to cancel, we strongly suggest you purchase trip cancellation insurance to protect your vacation investment.
NAVTEC Expeditions assumes no financial responsibility for personal injury, emergency evacuation, or equipment lost in any way.