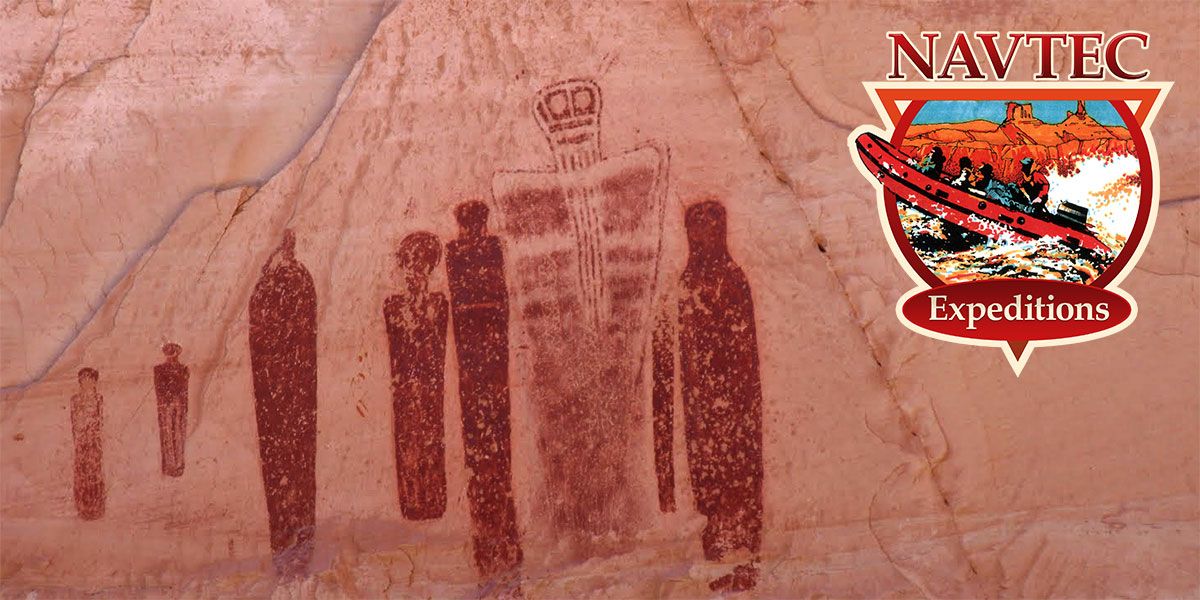 Canyonlands 4X4/Hiking Tour - $312 Adult & $302 Youth
Book Now
Deep within Horseshoe Canyon, a detached unit of Canyonlands National Park, lies a mysterious archeological site. We travel from Moab, Utah across the Green River Desert to this remote canyon. A wonderful hike leads us to elaborate life sized rock art panels, considered the finest in North America.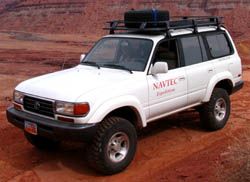 The 4X4 road to Horseshoe Canyon is beautifully isolated. The deep red Carmel sandstone caps a thousand feet of Navajo slickrock. We go into the heart of Robbers Roost Country, where Butch Cassidy learned to cattle rustle. This is one of the most remote wilderness areas left in America.
Arriving at the west rim of Horseshoe Canyon we pack our lunch, fill water bottles, and begin our decent. The canyon bottom is 650 feet below the rim. The hike is out and back 7 miles in total. Hikers need to be in reasonably good condition and can expect a strenuous hike out of the canyon.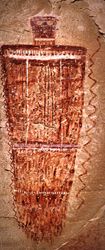 Big Game Hunters carrying fluted Clovis and Folsom points traced your very footsteps. They hunted mammoth and now extinct bison. These Desert Archaic Nomads emerged as the most artistically creative people of ancient times. We visit three of their rock art panels on the trail to the Great Gallery. Read more here about this canyon's archeology.
These are sinister and supernatural figures, gods from the underworld perhaps who hover in space, or dance, or stand solidly planted on two feet carrying weapons – a club or sword. Most are faceless but some stare back at you with large, hollow disquieting eyes. Demonic shapes, they might have meant protection and benevolence to their creators and a threat to strangers: beware, traveler, you are approaching the land of the horned gods.


-Edward Abbey, Desert Solitaire
---
Call us toll free 1-800-833-1278
Book Now
Trip Details:
Horseshoe Canyon tours depart at 8:00 AM. Meet us at the NAVTEC Expedition office 15 minutes prior to departure. We are located at 321 N. Main St. Moab, Utah. Pick-up from local hotels, motels, and campgrounds is also available upon advance request. We will take you to Horseshoe Canyon in our comfortable 4X4 vehicles and return you when the trip ends. Reservations are recommended, certain trip minimums apply.
Trips Operate:
Times:

8:00 AM to 11:30 AM -- Drive to Horseshoe Canyon
11:30 AM to 3:30 PM -- Hiking
3:30 PM to 7:00pm -- Return to Moab

Cost:
$312 Adult & $302 Youth (16 and under) + tax
Included:

National Park Tour by Four Wheel Drive Vehicle
Pick-up from your motel or campground, if needed
Quality lunch with ice water & lemonade
Licensed experienced guide service

Not Included:

Hiking sticks
Gratuities to guides
Signature on required "Acknowledgement of Risk" form

What to bring:

Sunglasses, sunscreen, visor or hat (sun protection)
Day pack
Water bottles 3 liters capacity
Sturdy footwear, Please No flip flops
Cell Phones and cameras carried at own risk

Reserve Today!

Book Now


RESERVATIONS & CANCELLATIONS:
Call us at 1-800-833-1278

To set up a reservation you can book online, or give us a call at 435-259-7893

Cancellations made 24 hours or more prior to departure receive a full refund less a $10 per person cancellation fee.

Sorry no refunds within 24 hours of departure WITHOUT EXCEPTION

NAVTEC Expeditions assumes no financial responsibility for personal injury, emergency evacuation, or equipment lost in any way.

A three passenger minimum is required for this tour to operate. If the minimum is not met you will be offered a different departure, the option to pay the third fare, or given a full refund.

We reserve the right to cancel or modify any trip. In such cases, we cannot be responsible for paying any expenses you may have incurred other than to refund monies due to you for tour price.