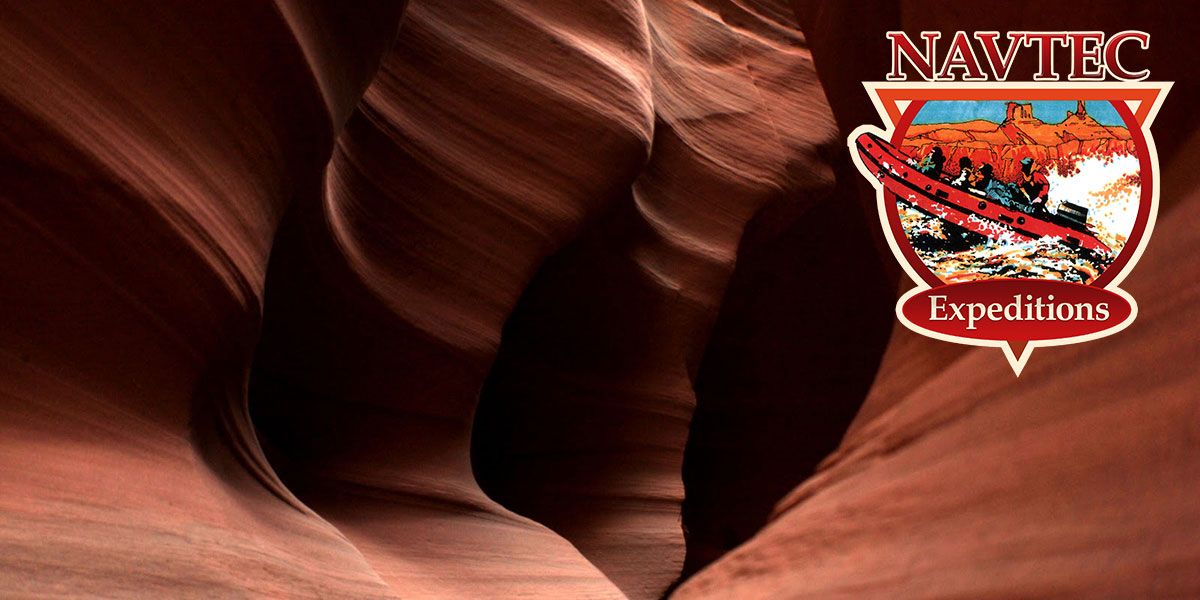 Difficulty Strenuous / 1 & 2 day Charters
The High Spur is one of the most magnificent and fun sections of canyoneering in Utah. Located in the remote Robbers Roost this canyon has a little bit everything: rappels, down-climbs, pothole escapes, possible swims and beautifully sculpted narrows.
First timers are welcome on this adventure, but make no mistake this is a physically strenuous canyoneering route. Those up to the five mile challenge will be rewarded handsomely.
The hike begins cross-country and within minutes the High Spur slots up. We climb over boulders and squeeze under log jams with a little teamwork.
As the canyon deepens we encounter the circle, a 400 yard loop of slot canyon. This section of sinuous curves is a photographers dream! The canyon walls alternate between open and slot as we stroll down canyon.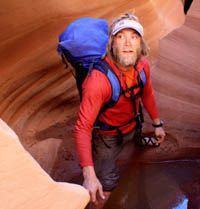 Midway in the route is our first technical obstacle, a 20 foot drop. If this is your first time rappelling it's an easy spot to learn this new skill.
Continuing on, the deep narrows become even more enchanting. A down-climb into a narrow hallway takes us to the Corkscrew. At first there is light and ten feet later darkness. This photogenic section is also where the canyoneering gets rowdy.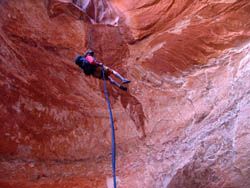 We'll escape from a pothole, some more gracefully than others, and stem across the canyon walls till, splash, time to break out the water wings. Water levels vary but come prepared to take the plunge.
Exiting the corkscrew brings us to a series of rappels. First a 30 foot chimney, then a 25 foot swirling pour-off. The grand finale is an 80 footer, completely free hanging.
Our exit from the canyon is a strenuous scramble through the rock bands, and requires a short section of climbing. Average time for this adventure is 7 hours of pure canyoneering.
---
Call us toll free 1-800-833-1278
Trip Details:
The High Spur is offered on a charter basis. The canyon can be completed from Moab in one very long day with a charter flight, or done in combination with an overnight 4X4 camp-out. Contact our office and we'll create an itinerary to meet your groups expectations. Reservations are required certain trip minimums apply.
Trips Operate:
Cost:

Charter

Included:

Technical gear (Harness, Helmets, Ropes)
4 rappels
All meals on trip
Ground transportation
Pick-up from your motel or campground, if needed
Parking available at the NAVTEC office
Licensed experienced guide service

Not Included:

Soft drinks (bring your own -- we provide a cooler and ice)
Gratuities to guides
Signature on required "Acknowledgement of Risk" form

What to bring:

Reusable water bottles (3 liters capacity)
Small day pack
Sturdy footwear, please no flip flops or hard soled hiking boots
Head lamp
Light colored clothing, long sleeve shirt and pants
Spring and Fall base layers: long johns, and pull over fleece
Hair tie for long hair
Sun screen and lip balm
Hat with a visor (a must for sun protection)
Sunglasses with securing strap
Camera, carried at own risk
OVERNIGHT ONLY
Tent, sleeping bag, ground cloth or pad (rentals available)
Flashlight (extra batteries)
Toiletries, personal medicines, skin lotion, insect repellant
Camp cloths: t-shirt, long pants, socks, fleece jacket

Reserve Today!
RESERVATIONS & CANCELLATIONS:
Call us at 1-800-833-1278

Our friendly staff will assist you with your reservation and deposit. If you are not able to call, email us at

This email address is being protected from spambots. You need JavaScript enabled to view it.

to set up a reservation.
$100 per person deposit is required to confirm space on the trip. Your balance or final payment is due no less than 30 days prior to trip departure.
Cancellations made 31 days or more prior to departure receive a full refund less a $50 per person cancellation fee. Sorry no refunds within 30 days of departure WITHOUT EXCEPTION.