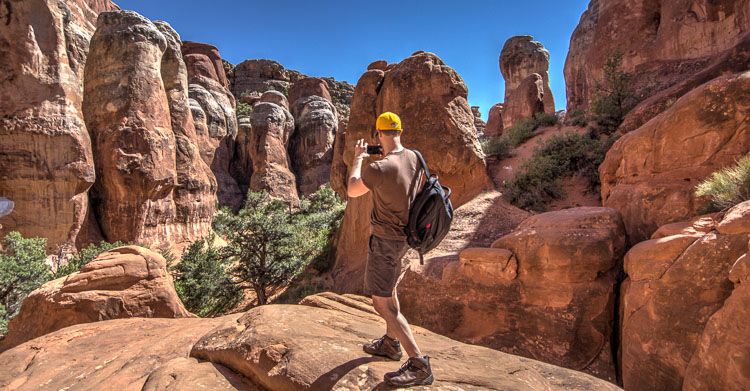 Arches Fiery Furnace - 8am till 1pm $95
Book Now
The Fiery Furnace is a labyrinth of narrow sandstone canyons and fins. The number one desert hike in Arches National Park.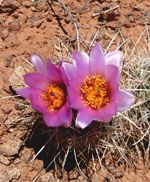 There are no marked trails in this baffling area and many dead ends. Our route is moderately strenuous in places, but can be enjoyed by anyone in reasonably good physical condition.
Through slot canyons and subway passages we visit hidden arches, spires, and fins. We scramble up narrow cracks and across ledges to the most amazing places. Small groups make this 5 hour tour captivating and inspiring.
We exit the park via an old cowboy trail and past Dinosaur tracks on our way back to Moab.
Call us toll free 1-800-833-1278
Book Now
Trip Details: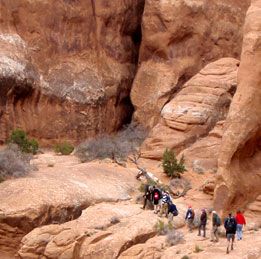 Fiery Furnace hikes depart at 8:00 AM. Meet us at the NAVTEC Expedition office 15 minutes prior to departure. We are located at 321 N. Main St. Moab, Utah. We have plenty of parking for your convenience. Pick-up from local hotels, motels, and campgrounds is also available upon advance request. We will take you to Arches National Park in our 4X4 vehicles and return you when the trip ends. Reservations are recommended no less than 7 day in advance and are subject to permit availability.
Trips Operate:
Times:
Cost:
$95+ tax
Included:

National Park Tour by Four Wheel Drive Vehicle
Pick-up from your motel or campground, if needed
Parking available at the NAVTEC office
Ice water and lemonade
Licensed experienced guide service

Not Included:

Park Entrance Fees ($10 per person, $25 maximum, or park pass)
Gratuities to guides
Signature on required "Acknowledgment of Risk" form

What to bring:

Sunglasses, sunscreen, visor or hat (sun protection)
Water bottles 3 liter capacity
Sturdy footwear, please no flip flops
Camcorders and cameras carried at own risk
Small day pack

Reserve Today!

Book Now


RESERVATIONS & CANCELLATIONS:
Call us at 1-800-833-1278

Our friendly staff will assist you with your reservation and deposit. If you are not able to call, email us at

This email address is being protected from spambots. You need JavaScript enabled to view it.

to set up a reservation.
$15 per person deposit is required to confirm space on the trip. Your balance or final payment is due no less than 2 days prior to trip departure. Reservations made within 2 days of departure require payment in full when the trip is booked.
Cancellations made 48 hours or more prior to departure receive a full refund less a $10 per person cancellation fee. Sorry no refunds within 48 hours of departure WITHOUT EXCEPTION.